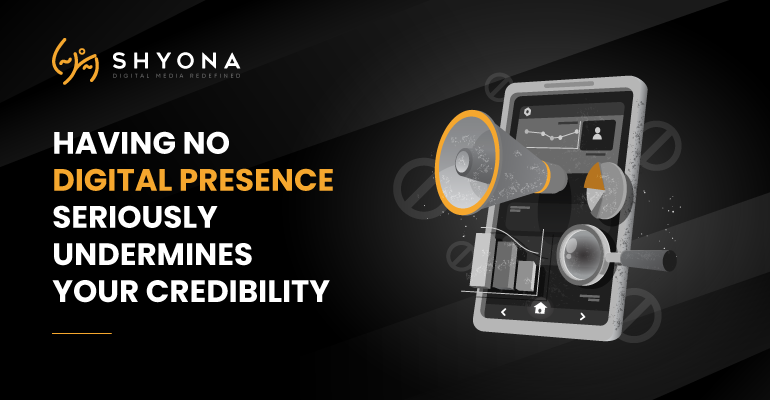 March 17, 2023
It's not news that social media has seeped through inches of the world and for better or worse, blurred the lines between reality and fiction. But that does not take from the fact that you cannot refute this but just jump on the bandwagon. Even if you are someone who wants to steer clear of social media, it doesn't change the fact that everyone else still is.
You know when someone asks you for your Instagram handle, and god forbid you say you don't have an account? Stares of disbelief, questions, and curious looks will bombard you. This is just the state of how much social media has influenced us and keeps us on the hook of being validated and acknowledged.
While there can be various reasons why someone can choose not to have a social media presence we are here to shed light on the fact that your absence can undermine your credibility – as a business or on a personal level.
Let's get onto it. Read on
Why you should have a social media presence
All said and done, you cannot swing past the fact that social media if used right can make rippled effects in making you known among a large group of people. If not just the acknowledgment, it can delve deeper into your motives and how you plan on aiding your target audience.
Networking: Growing a network is the easiest done on social media, after all that was the point! Not only can you garner your community, but you can also dole out services, make your business known to newer people, and have the upper hand in how you are perceived.
Setting the tone: New businesses go out on social media to set the tone for their brand. What better way to convince your potential customers of what you are cut out for, than publicly announcing the same? This works for new businesses and for those who are trying to turn a new leaf and gain some credibility. Shyona Technologies aids big time to change the script for businesses and people who want to flip the way they are received. With credibility on social media, your business can flourish and be beneficial on many levels to your target audience.
Traction: Having done the needed to put yourself out there on social media, you will start seeing traffic to your business and your social media on the whole. Not only does this boost your end product, but it can also build a strong presence which only garners more traction.
Record: Even if you are fazing out on social media, the good news is that people will still know about you. Your posts still hold value because social media does not disappear. However, posting regularly and maintaining consistency are one of the key reasons for the growth of successful social media accounts.
Being where your customers are: The final and most obvious of them all is that you need a social media presence because irrespective of your digital stand, the rest of the world is using social media looking for similar services as yours. This only gives your competitors better reach and leaves you unrecognized. To build a presence that validates what your business promises in the first place, Shyona Technologies can bring a fresh perspective to crafting a trustworthy presence.
Overall, a social media presence only bolsters your performance as a brand and increases your visibility so as to diversify your clientele. Not only does it make your business known to newer potential consumers but it leaves behind a solid mark on growth.
Amid the traction, social media can bring you, the primary focus while building your social media presence should be letting your service permeate through like-minded businesses so that more growth can be achieved from your side. Social media has been a powerful tool in propelling growth, recognition, and networking and if tapped into the right realms you will understand how much it can aid your business.