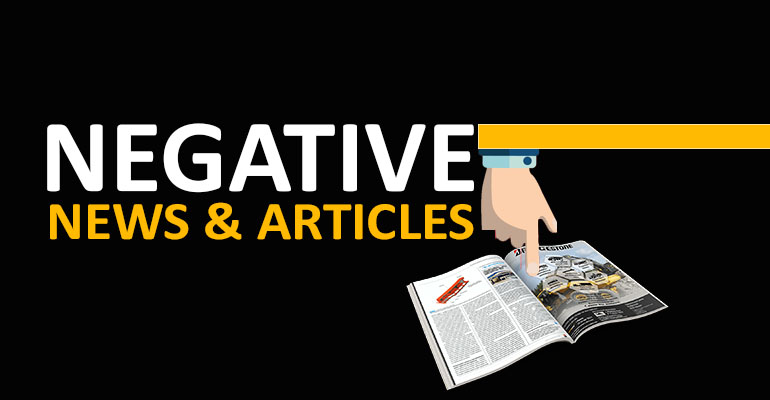 February 11, 2020
Negative articles or news about you or your business is the worst thing you can ever experience while dealing with the online reputation. These articles and negative news can ruin your entire career and the customers won't feel safe to trade with you. SO, if you are having some bad news or article about your business, it is high time to react and delete the news.
There are many incidents which sometimes ruins our social life. One of them is a negative news article. It can create a bad internet reputation. So, it is advised not to provide any bad content to any website, if it happens then too, we can change and remove the article on many websites. Many people thought that negative news could not be changed or removed, but the fact is that we can change the news at any time, sitting in any corner of the country. So now no need to worry about this problem, this article will guide you to remove your negative news from any website easily.
Changes are simple and easy to make
Sometimes admin refuses to delete the article present on their website or they can also deny removing your name from their website. They will not find the article bad, or they thought that article is good for their website, but for someone's, it can be the bad news which can spoil his personal or company's reputation.
If you find yourself stuck in the situation, then too you can find many ways to remove an article from the website. You just need to go through the correct procedure, and you will then be able to delete the article. Here in this article, we will be talking about the various ways to delete an article from the website or Google to get the reputation back.
Ways to remove negative articles and content from google.
Many times, it is not easy to remove the bad article on a website, but with some efforts, we can make it possible to delete an article from the site. The first thing you must do is to request to admin to delete the articles from the website. So, listed below are the ways to delete or remove the bad news article.
Contact the Admin of the site to remove the article.
The first way to remove any negative content from any website is to contact the admin and request them to delete the news which is harming your personal and social life. Admin can easily delete the news and you can free you from the negative news in a few minutes. There are some questions asked by the admin and you just need to reply to the simple questions regarding removal request. the admin may take some time to remove the article, as admin will intimate their team to delete the article. So, have patience after sending the request to the admin; they will surely delete the article in few moments.
Legal removal requests can be made.
You can consult any legal executive for removing negative articles. Before going for any legal action, make sure these two points fulfill your criteria.
That article should contain some unverified data or the matter is defamed.

Without the permission of the writer or admin, the content is copied from any site.
If your news comes under these two points then you can opt for legal formalities and the lawyers will help you to get rid of the situation. It might take some time to remove your article by using this procedure as it takes time in legal formalities to finalize. But this is the best way to opt for because it will remove your content legally and the site admin will never publish your article again.
Online reputation management.
One of the most common ways to remove your negative article is to use online reputation management. In this process, you need to consult to online expert and he will quickly help you by re-indexation of your article. There are many ORM companies which are working for removing the negative news, they have contacts with the editorial department of news sites. These companies work by removing your article from the search engine. They will constantly post positive news related to you or your company and rank top in search engine, which can help you negate the earlier negative things published about you.
When they fail to remove your article from a particular site, they will suppress the negative link, so that this link will no longer see in the first two or three pages. As nobody search more than two or three pages at a time. So, this is the right way to remove negative news from any site.
These three methods are commonly used while removing the negative news, you can opt for any one of these and get rid of your negative news. This news can harm your online reputation, so go for one of them to again get a normal life after this hassle.
So, choose any of the above-listed ways to get your online reputation back and you will be able to live a safer and more secure online life than before.