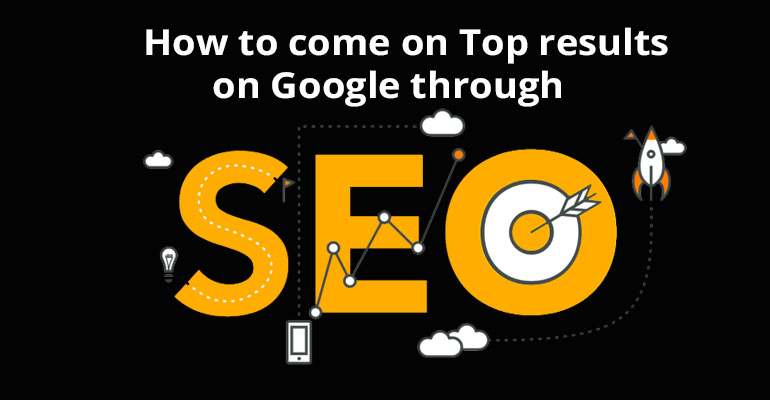 May 2, 2020
Everyone is interested in figuring out how to get on the first page of Google may feel like a complex and overwhelming task. There is no one particular method to come on the first page of Google search result page as they use many tools and algorithms that are updated regularly to determine the order that websites are displayed in search results.
Just focus on these points to improve your ranking in Google search results. Lets, get started-
Keyword Research
Keyword Research is the most important part of SEO you are allowed to search and find what people are looking for most. Taking the wrong keyword will drop-down your website performance with less traffic and fewer conversions. Find the best keywords for your product. Use Google Analytics to find the best keywords for your business.
Make sure to perform competitor analysis for the top 10 results (for the primary keywords you want to rank for). Analyse Title, URL, Description of all the top 10 results to get a fair idea. You can also use tools like SEMrush for competitor analysis.
Improve Site
Optimizing your website properly will help in many ways to improve your SEO.
Easy Site Navigation improves the user experience and helps in getting higher search engine ranking. A website should be easy and enjoyable to use and offers valuable information, product pages should be as easy to navigate, make understandable
categories and include the search bar.
Most of the time the reason behind bad SEO is present within the site 'The Errors'. Some of the errors will be like #404 and #301 or etc, find out the pages having broken links and resolve it.
Website speed matters when you scroll the website content on mobile or desktop, analyze how long it takes to load the page. Faster website loading is one of the important factors that help ranking is the in search results.
Content
Optimize your content properly. Make sure to focus on the following things while optimizing your content for the keywords you want to rank for.
Title Tag – Make sure the keyword that you have chosen for the particular page is present in the title tag. It should be about 65 characters, you can use the Yoast plugin for optimizing your content.
Meta Description – It should be a crispy description of your page and exactly which must describe the keyword as well. so write it smartly. It lets search engines know about the data on your Webpage.
Meta Keywords: It includes the keywords which suit your webpage's content. However, these are no more useful now, so even if you don't use them, there won't be much difference.
Internal & Back Link
Linking your content with your page or with some different websites also help to improve your
search rank.
Internal Linking helps to navigate from one page to another in the same domain thus builds the hierarchy of a website. These internal links allow you to make your own anchor text and help in ranking the top keywords and drive traffic on your other webpage. Linking irrelevant pages with irrelevant anchors will spoil everything.
Backlinks are when another website puts content which includes links to your Website. Find websites that are willing to do some cross-promotion.
Image alt Txt
In each page & post, add relevant images with proper alt tags. Also provide some good description of the image.
Socialise Your Content
There are multiple plugins which help in sharing the content from your website to social media. Putting content on social media increases the reach and helps you get traffic from different mediums.
Conclusion
So there are many factors which affect in Ranking, but if you focus on these factors to optimize your website that would definitely help your website to improve the ranking and traffic as well. Hope this helps you.