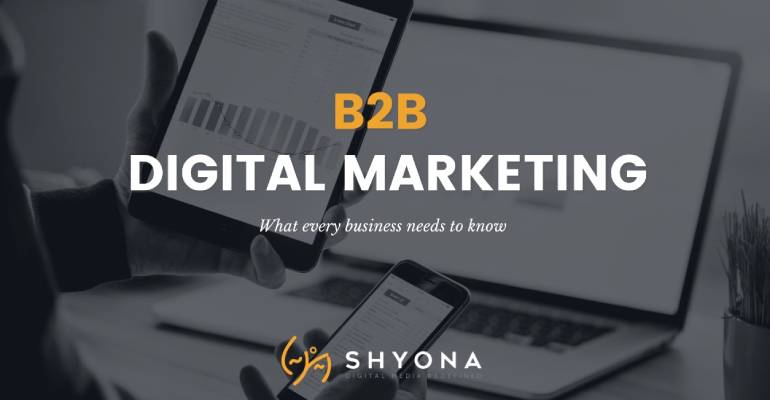 August 4, 2021
Digital marketing brings about $375 million to the industry and B2B is one of the highest investors among others.
Traditional marketing has a huge influence on B2B advertising, however, digital marketing is also coping up. Digital marketing has opened up multiple folds for businesses through advanced channels for advertising.
The ultimate guide to B2B digital marketing
By now, you should know B2B are business to business models, where one business sells to another or utilizes the other for business purposes. If you recognize your organization as B2B then this guide is a perfect start for you.
Digital Marketing is widely spread across the web and the other mediums of mass communication. To make this equation simple et us find out what falls under digital marketing-
Internet- the web portals, social media, blogs, search engines, etc.

Television and radio
To elaborate it further, the internet gives B2B businesses the exposure they deserve even beyond traditional marketing such as leveraging TV, radio, print media, and others. Even though traditional marketing can be profitable, you will never get the exposure as online marketing.
Do you want to know the different mediums of digital marketing? Read on and find out how you will be able to best leverage the online advertising opportunities.
What are the different types of digital marketing mediums?
The internet brings us many opportunities that are both cost-effective and useful.
Search Engine Optimization (SEO)

Email Marketing

Display Advertising

Pay-Per-Click Advertising (PPC)

Content Marketing

Social Media Marketing (SMM)

Affiliate Marketing

Online Public Relation Management
Mentioned above are some of the examples of digital marketing, which combines together can give you outstanding results.
How can you effectively use digital marketing in B2B?
Everything has time to begin and accelerate. But, the question is how will you understand which is the right time for which digital marketing medium?
Your decision should depend upon a few things such as-
Who is your target audience and what do they prefer?

When is the ideal time for digital marketing in a scenario recognized from the research?

What should the digital marketing campaign look like?
The process is simple, help your target audience recognize you as a brand through your SEO efforts, display ads, and PPC. Once people recognize you start to grab their interest by email, content, and social media marketing. Then start building your customers' trust by online PR management, and affiliate marketing with similar brands people already know.